… Yeah, I'm too lazy to come up with a proper post title this time, too.
There's actually been some progress since last time, but sadly nothing that's actually really easy to, uh, take a screenshot of and show off to the public. Most importantly, matches are now submitted to the master server and inserted into the main statistics database. That alone is a huge feature, now (almost!) all finished up.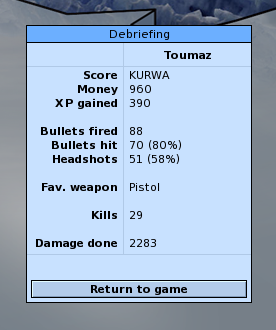 In close relation to the submission of the statistics, they are also passed around amongst clients for the ugliest debriefing screen in the history of… uh, menu coding. Did I mention I hate menu coding? I think I did. As can be derived from the above screenshot, though, there's still no functionality in place to track score – which is pretty much what is left to do. Plus adding the walrus, finally getting around to making the boss code not suck too hard, and fixing some minor bounty related bugs with explosives. And damn, I still need to add the Punt gun.
… I'm still lazy, okay? ;)