Seeing as I only just now received a comment urging me to post more updates, I suppose it's only fair to officially dub myself a lazy bastard and try to alleviate this by giving you a new post straight away!
So it's with pride that I today announce what I've been working on for the last month or so:
Seal Hunter MMO Edition!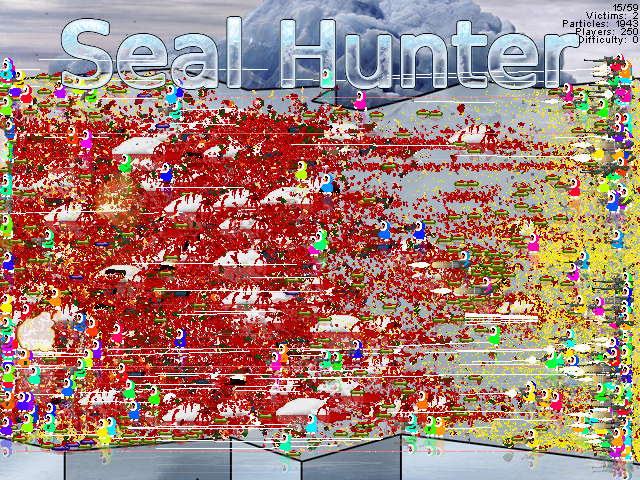 (Since some people don't seem to notice – this is a joke. Click Continue reading for the actual content.)
Apart from now supporting over 200 players in a single server, these are the main new features:
Over 20 realms with support for 10,000 players on each and every one
Monthly subscription fee totalling 19.95 EUR
New exciting quests, such as killing enemies in a specific order, looting them for new weapons and raw materials.
Form your own career by making clothes out of your victims, or even start up your own Fishing Corporation!
Voice chat built in for easier communication between players!
And much more!
Or maybe not – and this is yet another proof of how bored I really am. ;-) If you hadn't guessed already, that was a rather terrible joke and nothing that will ever happen. Well, not anytime soon, at least! But yes, the screenshot was taken in-game, with a truckload of bots firin' away into the fray, so have a gander at that, regardless.
The latest additions to the game itself have been the turtle and the walrus, of which both are currently being implemented. In addition to that, much work has been done in order to construct a reliable database and backend design in order for me to be able to make progress into a public or private beta testing round.
However lazy I might be and however slowly we've been moving forward lately, we're now pretty darn close to the point where we might expect a beta not too far away. (Remember that "not too far away" should be put in contrast to the fact that this project has been in development for over a year and a half.)
Please leave your comments here or on the forum, feel free to come up with new weird weapons and statistics to track, and 'til next time!